In Memory
Melita Lynn Broxson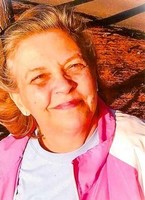 Norris Funeral Home - Bay Minette
Melita Lynn Blackman
(September 9, 1957 - December 21, 2016)
Melita Lynn Blackman, age 59, born in San Antonio, TX and a resident of Bay Minette, AL died Wednesday, December 21, 2016 at Mobile Infirmary Medical Center. She was a phlebotomist at North Baldwin Infirmary.
She is survived by her lifetime partner, Denise Homan Gordon of Bay Minette, AL; one son, Daniel Blackman of New York; two daughters, Sara Murphy of Pensacola, FL and Kendell Brown of Bay Minette, AL; one brother, Jerry Kenneth Broxson, Jr. of Idaho; eight grandchildren and one great grandchild.
A memorial service will be held at a later date.