In Memory
Cheryl Ann Wiggins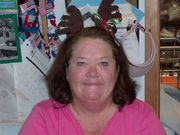 Cheryl Ann Wiggins, 58, of Milton, passed away on Wednesday, March 11, 2015. Cheryl was born Dec. 12, 1956 to Emory Jackson Wiggins and Bernice Edna Gill Wiggins. She was employed for over 33 years with the Santa Rosa County School System. She spent a few years at Bagdad Elementary before moving to Pea Ridge Elementary where she spent the rest of her working years. Pea Ridge Elementary was her home, and all of her co-workers were family to her.
Cheryl had an undying love for children; and every child that she had a part in their education, became her child. She was truly the definition of "No child left behind"! The greatest loves of her life were her nephews and nieces, and great nephews and great nieces, and they were forever her "babies"! Because she was "Aunt Cheryl" to them—many of the kids at Pea Ridge Elementary came to call her "Aunt Cheryl". Many kids that went to Pea Ridge will fondly remember her as the "Loud Crazy teacher's aide that Proudly dressed every holiday especially as the Reindeer at Christmas"!
Cheryl is preceded in death by her parents; a baby sister Jacquelin Bernice Wiggins, a baby brother Steven Jasper Wiggins, and a special cousin Jane Majors.
She is survived by her sister and brother in law, Charlene and William Price of Bagdad; her brother and sister in law, Earnest "Buddy" and Judy Wiggins of Pearland, Texas; six nephews and nieces,
Billy (Cindy) Price, Tracy Wiggins, John (Kim) Price, Kimi (Kelly) Gillis, Jack (Brittany) Wiggins, and Tammy Wiggins; seven great nephews and great nieces, Trey Price, Grey Price, Meagan Price, Hannah Silas Brodie Gillis, Piper Gillis, and Jackson Wiggins.
There will be a visitation from 10:30 am to 12:30 pm on Saturday, March 14, 2015, at the Lewis Funeral Home, Milton Chapel.
Graveside Funeral Services with Rev. Mike Poston officiating and Lewis Funeral Home directing, will be held at 2:30 pm on Saturday, March 14, 2105, at the McLellan Cemetery, in McLellan, Florida.